About Dating, Matchmaking and Developing Relationships
With Single Ladies from Belarus, Latvia, Moldova, Russia or Ukraine
When a man is thinking about dating women from Eastern European countries such as Belarus, Latvia, Moldova, Russia and Ukraine, he needs to think further and imagine what is involved in the development of relationships in international dating versus what is accustomed with in regards of local dating. When dating women locally, often the development of the relationship is made while doing fun things such as dining, clubbing, skiing, watching movies, visiting exhibitions etc. It is ok as it is things that both parties like to do but don't like to do so much when alone. And, indeed it allows to get to know each other at the same time. P>
When traveling to Eastern Europe to meet single women in Belarus, Latvia, Moldova, Russia or Ukraine, a common mistake that many men do is that they have a similar approach as when meeting women locally. One of the differences is that there is not the luxury to taking so much time to get to know each other. Sure, when together, it is fun to go dining, go to the theatre and do something interesting but if that something takes most of your attention, then you go back home after a few days or a week and you still have many unanswered questions that you now realize could have been discussed while together, if only you had the time to do so.
Our advice is to not make too many plans and to simply spend time talking. It can be over a coffee, while taking a walk in the park, while dining but not so much while doing activities that take most of your attention. You only have so much time together and most of it should be invested in getting to know each better and the best way to reach this goal is to talk while looking at each other's eyes. Russian women and Ukrainian come from countries that have different culture and traditions, thus may have a different way of thinking and have a type of character than what you are not used to. We elaborate more on these subjects in our Russian Women of Character page and in our Blog. In this page here, we will focus more on how to select profiles that can be a good match and what to do to make the best of the time you will spend in the company of your Russian or Ukrainian girlfriend or to be girlfriend
About the Selection of Profiles that Meet your Criteria and Vice Versa
What are the Important Factors and what to Focus on
Selecting profiles is exciting and yet, it can be tricky. One thing is for sure: it is a very important step and it should be well thought before beginning it. The idea is to select profiles that best match your search criteria of an ideal life partner and vice versa, meaning that you should also match the criteria of what the woman is looking for in a life partner. We suggest paying extra attention to two factors: the age gap and the question of children. Does not matter how beautiful the woman is and how much you feel you have in common, try not exceed an age gap of 15 years. About the question of children, here are what we believe are the most important factors:
If you already raised you family and you don't want to have young children at home anymore, you should probably stick to that no matter what.
If you are looking for a woman with children or you don't mind if she has any, then you have to think about how many children you could be happy with and of course, in what age group?
The same goes for the woman and if not specified enough in her profile and you decide to write her, don't forget to ask for more details regarding this very important question.
Do you wish to have common children in the future and does the woman wish to have children? Don't overlook this question, especially if the woman does not have children and is she is younger than you.
And if the woman has minor children, will they join her when she moves with you in your country?
And if that is the plan, does she need written permission from their father to do so?
Once you've thought about these two important factors, we suggest that you pay attention to the geographic question as well before beginning your selection of profiles. Remember that Russia is the largest country and that Ukraine is also a very large country, being the second largest country in Europe. That may be more a question of budget but regardless, you should get familiar with it as well.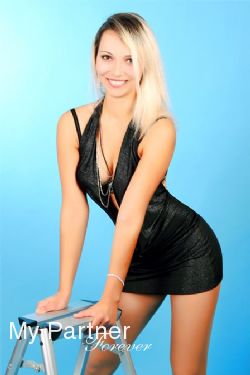 While corresponding and developing relationships with Russian or Ukrainian women, we suggest that you elaborate on these subjects :
We think it is best to avoid politics. Yes, it is an important subject but not for now. Keep this for later.
Geography is always a nice subject. Learn about her country and ask her what she knows about your country.
Talk about your jobs; now, in the past and your future plans. It is always interesting to know where a person comes from and where that person is going.
If children are present, it is very important to discuss this subject in many ways. Do you have full custody or joined custody? How often do you spend time with them, what do you like to do together, etc.
The same goes for family and friends. It is important for both parties to have an idea of how social or not is the other person.
Although the job, children, family and friends are very important subjects, what is probably the most important is the inner world of an individual. So, don't be shy to open up and make her comfortable to do so as well.
Dating and developing a relationship with a Russian or Ukrainian woman in her own country is something that requires organisation and dedication. You don't have the luxury to see each other a couple times per week for a couple of years before making a serious decision. You need to be able to find out if there is chemistry quite more rapidly and yet, without taking away the beauty of letting things happen in a normal and natural way. This requires skills that we all have access to. It is simply a question of using them properly. Each year, thousands of Russian and Ukrainian women find their life partner from abroad. We wish you to be one of these lucky men and to find your charming and loving wife!