Online Dating Site to Meet Single Women from Russia
Quality Matchmaking Service to find a Charming Russian Bride
We offer an authentic dating service to help men from any region of the world to get in touch with single women from Belarus, Latvia, Moldova, Russia and the Ukraine. The women on our site are looking for a life partner from abroad because they cannot find locally a man who wishes to engage in a serious relationship based on family. A typical Russian or Ukrainian woman is proud and not a gold digger. She simply wishes to find a good hearted man who will love her, respect her and be a good leader for their family. Of course, they are not going to leave their country with a man who does not have a job but on the other hand, you do not have to be millionaire to win her heart.
It is not a secret that there are a lot of scammers in this Russian women online dating sites industry. Unfortunately, there will always be people who chose to do business the bad way, regardless of the consequences to other people. It is also a fact that there are approx. 10 millions more women than men in Russia and former USSR countries and it is also not a secret that many of the single men in these countries have drinking problems and are not the kind of husbands single Russian women are looking for.
For the purpose of not repeating the same words, when we talk about Russian women in this page, they can be from either Belarus, Latvia, Moldova, Russia, Ukraine and other former USSR countries. Russian women have the particularity of being generally well educated and very good housewives. This is something that is getting harder and harder to find in countries of the west where a majority of women are so involved with their careers; they have very little time left for the family life. This, in part, explains why so many men from countries of the west are interested in finding a Russian wife. At the same time, Russian women are aware that many men from the west are family oriented and this also explains why they are interested in finding a husband from these countries.
About Dating with Russian Women
What a Man Should Do and Not Do
In many ways, dating with a Russian woman is quite similar as dating with any woman. There are principles that are universal and that should be respected in order to increase the chances of finding a good wife. First: be yourself. No use to invent stories to impress and later on, deceive the woman. Don't talk too much about your car, your boat etc. but concentrate on talking about who you are. At the same time, pay a lot of attention to what she says and show interest in finding out who she is, what she likes in a man, what she likes in a relationship etc. In the end, either the meeting proved that you were a match or not, it will have been interesting for both parties.
Whether you and your ex-wife are not in good terms or good friends, it is usually not a good idea to talk about this subject during the first meetings. In a similar way, don't question her about her past relationships. What matter is that you are both single and eligible to marry. There will be plenty of time to talk about past relationships in the future. Concentrate on the present and the future. What do you expect from a life partner, what role should both parties have and what are her views of these questions.
One aspect that you need to always remember is that you and the Russian woman you are dating come from different countries, that have different cultures and different mentalities. Of course, this seems obvious, but for some reason it is often overlooked. It is very important to keep this in mind; otherwise there may be many misinterpretations and misunderstandings. This is even more true if your English is not perfect or if you have a strong accent. In fact, you need to be patient and don't hesitate to ask her to repeat if you feel you don't understand the sense of what she is telling you and in the same way, let her know that if she feels that she is not getting the sense of what you are telling her, to not hesitate to ask you to explain it.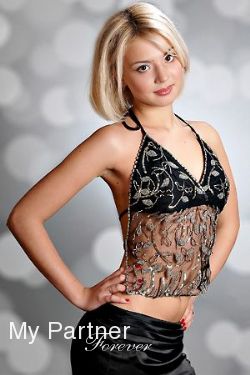 You and the Russian Girl are Having a First Meeting
What to Expect and How to Behave
Rule number 1: be a gentleman – be polite, be patient, be courteous and open doors for the lady. You can talk about your studies and about what you do for a living and if she does not elaborate on these subjects about herself, you can invite her to do so. It is not advisable to elaborate on your finances, especially if you have a lot. If you are rich, don't mention it – it will be a bonus for her later. Simply tell her that you are comfortable with money and that you have no problems to provide a good living to your family.
Even if the first meeting with your beautiful Russian girl goes well and you feel there is good chemistry between you two, don't get carried away and keep talking about important subjects such children. For instance, it is very important to know from both parties if there is a wish to have children in the future. Also, if you have children living with you, how does she see this? And, if she has children living with her, it is very important to discuss whether she plans to leave them with family in her country or she plans to bring them with her, and if so, does the father agrees to sign the documents allowing her to do so.
About kissing and being intimate, it is definitely not a good idea to bring this up on a first meeting. Actually, it could have an adverse effect. Russian women are typically traditional on this subject and even if you feel that your date with the Russian woman if going very well, it is best to wait at least until the third meeting to start kissing and be intimate. This is another area where Russian women dating may be different than local dating. Keep making precious use of the time with by talking of important things and you may very well be on the way to find your beautiful and charming Russian bride.